Friends of Burley Lagoon
ALERT!
01/06/2023: The Final Environmental Impact Statement has been issued on the Burley Lagoon Geoduck Farm(Taylor Shellfish Farms) Shoreline Substantial Permit.
The FEIS is available on the Pierce County Planning and Public Works webpage at:
http://www.piercecountywa.gov/burleylagoon follow the prompts to the FEIS.
Please watch your email for the next steps from Friends of Burley Lagoon.
THANK YOU to everyone who responded to the Draft Environmental Impact Statement (DEIS) on behalf of Burley Lagoon! There were an overwhelming number of responses.
This is just the beginning of a long process. We appreciate your continued support. You can read the Friends of Burley Lagoon response along with all the other responses at this link:
piercecountywa.gov/palsonline

Questions? Contact:
Send your comments about the DEIS referencing Permit #823304 to Pierce County at:
Dave Risvold, Pierce County: Dave.Risvold@piercecountywa.gov
Ty Booth, Pierce County: Ty.Booth@piercecountywa.gov
Please share your comments with Friends of Burley Lagoon email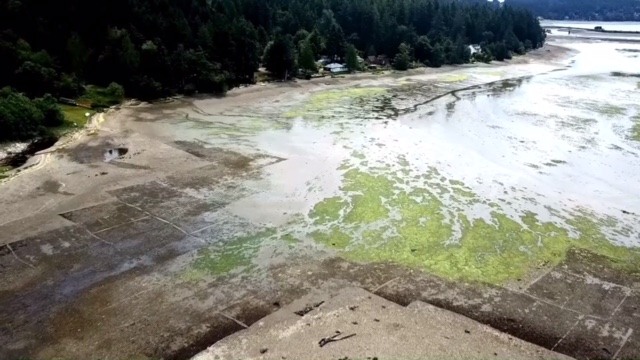 Predator exclusion nets covering previous natural habitat in Burley Lagoon
WHAT ARE WE WILLING TO SACRIFICE?
Are Puget Sound tidelands and estuaries being exploited by industrial aquaculture? Fragile estuaries such as Burley Lagoon depend on the stewardship of all people.
Friends of Burley Lagoon is troubled by the loss of natural habitat and feeding grounds for aquatic animals, plants, and waterfowl that call Burley Lagoon and Puget Sound home.
Currently, the Burley Estuary has large areas of the tideland covered in plastic nets to protect industrial oyster and clam beds from aquatic animals and birds considered pests by the industry.
These tidelands have been altered by the nets, and marine animals can be trapped under the nets and die. To boost the yield of clams and oysters, the industry can also remove species considered pests or predators including:
bamboo worms, barnacles, burrowing shrimp, cockles, crabs, flatworms, horse clams, moon snails, oyster drills, sand dollars, starfish, perch, seagulls, crows, ravens, waterfowl, flatfish, sculpins, raccoon, river otter, mussels, algae, grasses, Japanese eelgrass, slipper shells, and tunicates.
Now the industry is proposing the installation of a 25 acre geoduck site in the Burley Lagoon. If Pierce County approves the permit, cumulative impacts of industrial aquaculture practices could threaten the Burley estuaryís ecosystem and continue to interfere with the natural food web of Puget Sound.
Friends of Burley Lagoon is a group of citizen advocates monitoring the expansion and impacts of industrial aquaculture. We seek to provide information to the public and champion ecological balance and biodiversity in Burley Lagoon and Puget Sound. Friends of Burley Lagoon is committed to protecting Puget Sound tidelands and the Burley estuary. They are Washington treasures, not to be sacrificed.
We welcome your contribution. Friends of Burley Lagoon is a nonprofit 501(c)(3).

You may also mail your contribution to:
Friends of Burley Lagoon
P O Box 363
Burley WA ,98322
Questions? Email Us
Join our email list to stay informed.