Friends of Burley Lagoon
ALERT!
Public Meeting Notice
Key Peninsula Land Use Advisory Commission (KPAC) and
Gig Harbor Peninsula Land Use Advisory Commission (PAC)
Shoreline Substantial Development Permit / Shoreline Conditional Use Permit:
Case No. SD/CP15-14 - Burley Lagoon Geoduck Farm (Taylor Shellfish Farms)
Application Numbers: 778791, 778792, 778793, 778794, 823304, 1004944
Parcel Numbers: 0122133078, 0122231065, 0122231067, 0122231071
Proposal: Convert existing shellfish beds from the cultivation of Manila clams and oysters to geoduck clams planted in rigid polyvinyl chloride (PVC) nursery tubes and/or HDPE flexible mesh nursery tubes throughout a 25.5-acre project area. Predator exclusion netting may also be utilized during some portion of the generalized 6-year grow-out cycle. Planting would be done in phases. Read More...
KPAC and PAC Public Meetings:
The proposal will be considered at the following meetings:
Monday, May 22, 2023, at 6:00 p.m. - 9:00 p.m.:
Key Peninsula Civic Center, Gymnasium, 17010 S. Vaughn Rd. NW, Vaughn, WA 98394
Of the three meetings, this will be the only one where the public may testify.
One may also participate in this meeting remotely.
Visit https://Zoom.us/join and click "Join A Meeting", or call 253-215-8782,
then enter the Meeting ID: 915 5550 6834, and Passcode: 253, or follow this link:
https://piercecountywa.zoom.us/j/91555506834
Wednesday, May 24, 2023, 6:30 p.m. - 8:30 p.m.:
City of Gig Harbor, City Council Chambers, 3510 Grandview St., Gig Harbor, WA 98335
Thursday, May 25, 2023, 6:00 p.m. - 8:00 p.m.
Key Peninsula Civic Center, Gymnasium, 17010 S. Vaughn Rd. NW, Vaughn, WA 98394
Download the Burley Lagooon LUAC Public Notice PDF Document
The County has created a webpage for this proposal at the following link:
http://www.piercecountywa.gov/burleylagoonfarm
Questions? Contact:
Send your comments to Pierce County at:
Dave Risvold, Pierce County Shoreline Planning Supervisor: Dave.Risvold@piercecountywa.gov / 253-798-7036
Ty Booth, Pierce County Planner: Ty.Booth@piercecountywa.gov / 253-798-3727
Please share your comments with Friends of Burley Lagoon email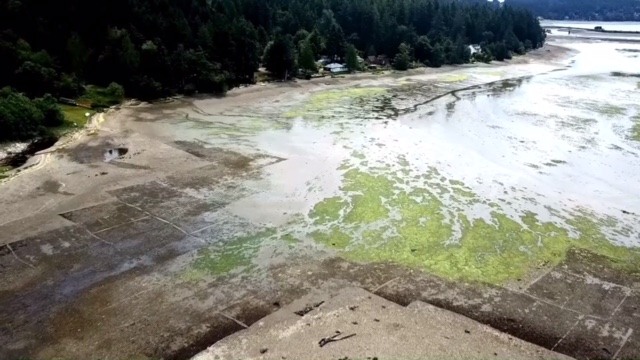 Predator exclusion nets covering previous natural habitat in Burley Lagoon
WHAT ARE WE WILLING TO SACRIFICE?
Are Puget Sound tidelands and estuaries being exploited by industrial aquaculture? Fragile estuaries such as Burley Lagoon depend on the stewardship of all people.
Friends of Burley Lagoon is troubled by the loss of natural habitat and feeding grounds for aquatic animals, plants, and waterfowl that call Burley Lagoon and Puget Sound home.
Currently, the Burley Estuary has large areas of the tideland covered in plastic nets to protect industrial oyster and clam beds from aquatic animals and birds considered pests by the industry.
These tidelands have been altered by the nets, and marine animals can be trapped under the nets and die. To boost the yield of clams and oysters, the industry can also remove species considered pests or predators including:
bamboo worms, barnacles, burrowing shrimp, cockles, crabs, flatworms, horse clams, moon snails, oyster drills, sand dollars, starfish, perch, seagulls, crows, ravens, waterfowl, flatfish, sculpins, raccoon, river otter, mussels, algae, grasses, Japanese eelgrass, slipper shells, and tunicates.
Now the industry is proposing the installation of a 25 acre geoduck site in the Burley Lagoon. If Pierce County approves the permit, cumulative impacts of industrial aquaculture practices could threaten the Burley estuary's ecosystem and continue to interfere with the natural food web of Puget Sound.
Friends of Burley Lagoon is a group of citizen advocates monitoring the expansion and impacts of industrial aquaculture. We seek to provide information to the public and champion ecological balance and biodiversity in Burley Lagoon and Puget Sound. Friends of Burley Lagoon is committed to protecting Puget Sound tidelands and the Burley estuary. They are Washington treasures, not to be sacrificed.
We welcome your contribution. Friends of Burley Lagoon is a nonprofit 501(c)(3).

You may also mail your contribution to:
Friends of Burley Lagoon
P O Box 363
Burley WA ,98322
Questions? Email Us
Join our email list to stay informed.